Mixing Emulsifying Series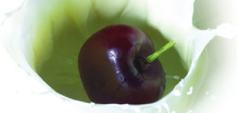 TRL-B Efficient Online Mixer System

How It Works
Operation Principle
TRL-B efficient online mixer system is the latest generation of solid and liquid, liquid and the liquid fast, efficient hybrid systems equipment. The system has powerful Central vacuum of power system to ensure operation of the system efficient, safe and reliable, but also the clever design of a set of precise and bite Rotor will close subsystems, making efficient online mixer with a variety of unique and mutual reunification of the Function. In the unique and compact structure of the system, two systems synergy, working together, so that non-homogeneous materials in a small space rapidly and thoroughly mixed and heterogeneous, and may even be a meticulous verification of stability to repeat Production results.


Structural features
System Portfolio
Table system: according to different application requirementsv, select SUS304 or 316 L stainless steel manufacturing. The relatively closed system equipment, cleaning, sanitation, safety, aesthetics, easy to operate; Dry powder feeding: v-dry powder for solid feeding the mouth of Health with adjustable valves. Can choose manual or pneumatic control; Control Valve: Yes conditioning systems must be part of the system at the same time to adjust the volume and velocity; Endoscopic: (choose to install): To observe the entire system operators provide a convenient working conditions and visual instructions. System emptying system (based on customer requirements choose to install); can be used for cleaning, emptying and sampling. Efficient mixer: the system is the core components, the ingenious design of a precise and bite Rotor will close subsystems, making efficient online mixer with a variety of unique and reunification of the functions of each other. They are asked to the relatively high rate of high-speed rotation, but not direct contact with each other, not wear. Health centrifugal pump shape the structure from the structure, shaft, mechanical seals, seals and other imports are Germany; rotor, stator, the whole cavity are forging a stainless steel high-precision CNC machining centers from processing; system strong, secure, Efficient, safe and reliable; Efficient power machine: the powerful Central vacuum of power system is an essential part of system to ensure that systems work efficiently, fast, stable, powerful, safe and reliable. Health of the powerful suction ring true blank suction system for the whole mixer conveyor system, and provide the impetus for solid materials. Sealed in stainless steel, machinery, Kennedy-durable, stable and reliable. Security systems: systems are equipped with stainless steel double-filter protection systems to ensure that the metal to avoid any solid particles (Lo Salim, welding slag, metal, gravel, etc.) on the system damage. Operating system: the operating system designed, single-stop button to launch the operation, were instructed fault. Simple, easy maintenance. Operating system with anti-fertility overload, short-and anti-shortage-and to prevent misuse of the parade, such as interactive chain protection. According to customer needs, can be equipped with automatic operating system.
Specifications

Application Features
Features
Have mixed, stirring, decentralized, heterogeneous, emulsion, homogenized, and other functions, high universality; Production stability uniform, can be infinitely repeated verification. Particularly in dairy products, beverages, food and pharmaceutical production process more important. No powder Mission, grain-free, no clumps of a lectin. High efficiency: Compared with the traditional process can be shortened by about 80 percent of the time, greatly improving production efficiency, reduce production costs. Extensive application for automated production lines, but also to different batch production applications. Particularly applicable to high-viscosity, difficult to dissolve the material (viscosity up to 90,000 mPas); Hassle Free equipment can be fully online CIP / SIP, meet the health requirements and standards. Modular structure: the scene without the direct use of debugging, significantly reducing installation costs. Compact: small space, easy integration with other systems, saving investment.
Application
Food Industry: homogeneous concentrated fruit juice, long fiber drinks, soups, all kinds of jam, fruit juice, potatoes Nigeria, mustard cake; Dairy: homogeneous fermented dairy products: You yogurt, soft cheese, butter, etc. Heterogeneous mix milk products: such as ice cream, chocolate milk, cocoa milk, CMC, starch, Mr Jing, etc. Biological pharmaceutical industry: tissue, cell body grinding, injection; antibiotics; drug ointment; microcapsules emulsion; Cosmetics Industry: Emulsion various facial cream, lipstick, liquid detergent, Ximian Nai, skin care products, shampoo; Chemical industry: resin emulsion, surfactant, carbon black dispersion; dye coating.






Your Message