Mixing Emulsifying Series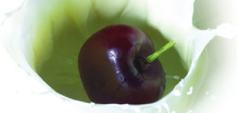 Rotary lobe pump

How It Works
Rotor pump is also named rotary lobe pump, three-lobe pump, sole pump,etc. When the 2 simultaneous reverse rotating rotors(with 2-4 gears) revolve, it produces suction force at the inlet(vacuum),which intakes the material delivered.The 2 rotors divide the rotor housing into many smaller parts and revo-Ive in the sequence of a→b→c→d.When it revolves to position a,only housing I is filled with medium;when it revolves to position b,housing B encloses part of the medium,when it goes to position c,housing A encloses medium,and finally it goes to position d,then housing A,B and II are interlinked and the medium is transported to the outlet.As this process is repeated,medium(material)is transpor-ted continuously.

Structural features
Rotor Pump Configuration





1.Screw cap 2.Pump cover 3.Seal ring 4.Cap 5.Seal ring 6.Rotor 7.Pump cavity 8.Mechanical seal (stationary ring) 9.Mechanical seal(moving ring) 10.Seal ring 11.Bearing sleeve 12.Bearing cover 13.Seal gasket 14.Rubber oil seal 15.Bearing seat 16.Seal gasket 17.Bearing 18.Upper shaft 19.Lower shaft 20.Helicalgear 21.Stop washer 22.Cap 23.Screw 24.Pump body 25.Bearing 26.Rubber oil seal 27.Seal gasket 28.Bearing cover 29.Pin
Special Structure
Butterfly rotor pump:with butterfly rotor,it is superior to other rotor pump when transferring material with high viscosity and largerpowder and effectively transports extremely stiff material. Single butterfly curved rotor pump(powder rotor pump):this pump series are specially design to transport material with larger powder.Its unique shape and curve makes it more outstanding compared to other pumps in delivering material withlarger powders.It effectively prevents powders from clashing,which is the top choice of pumps transferring material with powders.




Specifications
Note: the flow in the table refers to the data tested taking water as the medium. Adopts stepless speed regulator or frequency transformer to adjust the speed,with speed adjustable in 200—900rpm. The motor power should be increased when delivering high viscosity liquid The data in the table is subject to change without notice.See the actual products for the right data.





Application Features
Applications
Food Industry: Yogurt, Fresh Butter, Ice Cream, Cheese, Whey, Beer, Wort, Yeast, Soft Drink, Fruit Jelly, Fruit Drink, Ketchup, Fruit Puree, Vegetable Mash, Pudding, Fruit Jam, Jelly, Flavor, Fruit Stuffing, Sweet, Yeast, Seasoning, Bread, Meat Gruel, Comminuted Meat, Meat Oil, Edible Oil, Candy, Syrup, Thin Cream Dressing, Chocolate, Etc. Daily Chemicals: Cleansing Facial Milk, Hair Gel, Hair Dyes, Essence Oil, Toothpaste, Detergent, Shampoo, Shoe Polish, Cosmetics, Perf-umery Compound, Soap, Balsam, Etc. Pharmacy: Various Pill, Paste, Emulsifier, Syrup, Nutrition Liquid, Chinese Traditional Patent Medicine, Medicine Grease, Biological Products, Fish Meal, Pollen, Royal Jelly, Vaccine. Chemical Industry: Fat, Dissolvent, Resin, Polymer, Paint, Pigment, Dyes, Coating Material, Lubricant, Lubricating Grease, Oil Agent, Emulsified Asphalt, Adhesive, Plastic, Explosives, Glass Fiber Reinforced Plastics, Leather, Etc. Construction Industry: Various Coating, Including Indoor/outdorr Wall Coating, Corrosi on And Water Proof Coating, Ceramic Coating, Paint Coating, Ceramic Glazing, Etc. Other Industries: Plastic Industry, Textile Industry, Papermaking Industry, Coal Floatation Agent, Nanometer Material, Biochemical Industry, Etc.
Main Application Characteristics
High Viscosity Material Feeding Pump
With the characteristics of volume pump, low rotation speed, high output torque, high temperature resisting, the rotor pump plays a very important role in feeding high viscosity, high temperature material fields. It has a unique operation principle matching and can be used matching a powerful driving system, so that the rotor pump can output a powerful driving moment at a low speed and ensure material feeding consistently, without stagnancy, and also can ensure that the material performance in the process of material feeding not be damaged. The medium viscosity can reach 1,000,000CP fed by this pump.
Sanitary Feeding Pump

All parts contacting with material are made of stainless steel which is conforming to sanitary standard, applicable to sanitary and erosion resisting place in fields of food, drinks, pharmacy, chemical industry, etc.
Water cleaning mechanical seal
Mechanical seal configuration with water cleaning function can be provided, preventing equipment normal operation on the end surface of the mechanical seal from coagulation during feeding high viscosity material, and the service life mechanical seal in bad environment can be ensured.
Almost Have No Consumable Parts
It doesn't have any damage on the part during the rotor pump is operating (except mechanical seal), all parts contacting with material is made of stainless steel. A pair of rotors run synchronically during operating in a space with each other, no contact, it won't be any damage in theory, the rotor pump can work at temperature of 220℃ in all environments.






Your Message